Executive Summary
The customer is a young company dynamically developing in the Life Sciences industry that split off from a global organization. Its portfolio includes a wide range of consumables, research services, research processes, and complete production processes.
The transfer of the company to new structures was related to the necessity of IT systems migration. Craftware was responsible for the migration of systems and adjusting Salesforce Sales Cloud to the needs of users and the new company. The next stage of work was the Salesforce Sales Cloud system maintenance and its development. That is how service in the DevOps model (Dev – development and Ops – operations) was established, based on defined SLA, supporting users all over the world in a 24/5 model.
Challenges
After migrating to the new Salesforce instance, the Salesforce Sales Cloud system required providing ongoing support in a short time. It meant handling queries reported by users, solving issues, and further development.
The beginning of the cooperation required determining how many and which competencies we need to handle requests entirely and on time in the first days of service functioning. We did not have historical data that could be a reference point for us.
Solution scale was also quite a challenge – over 3.000 users in several countries use the system. While providing service maintenance from Poland, simultaneously ensuring users the highest quality possible, we had to establish how to support system users in the APAC region (Asia-Pacific) and LATAM (Latin America).
Solution
Our customer did not have experience in creating that kind of service from scratch. We suggested a tailor-made solution that could fully address its then-needs as much as possible.
The defined scope of support included:
The 1st, 2nd, and 3rd line of support (operations, development, and testing);
Deployment handling;
Care over tools and maintaining standards within CI/CD;
Service management;
A wide service window – 24/5 -> the 1st line support, 9/5 -> the second line of support;
Defined SLA for the response time and resolution time
Service is carried out in the Managed Service model and contains the following competencies: 1 Service Line Manager; 8 Specialists of the 1st and 2nd line of support; 2 Salesforce Developers of the 3rd line of support; 2 Deployment Specialists; 2 Testers.
Benefits
The difference based on the before and after cannot be defined because there is no the before state. System users gained a reliable, competent team ready to support them almost anytime. We expand the support service to include new systems used in this area (such as Showpad, Marketo, and soon – ServiceMax), and this is the proof of our customer's trust and the recognition for the so-far work.
Effects of cooperation
The system users regularly assess the support team (1st and 2nd line), and the rating is at the 4.9 level on a scale of one to five. Every month we receive completed questionnaires from 60 to 90 system users.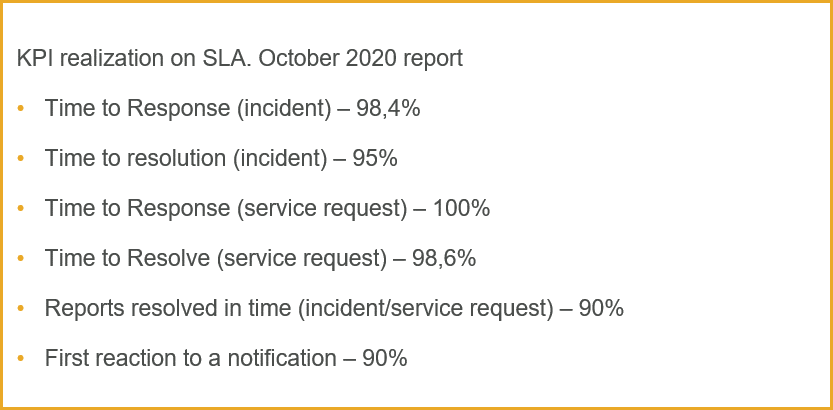 Since we have started working with our new SFDC and the new support team behind, I am amazed by their dedication and excellent work. Whenever a case is raised for account merges, new users, change users, update oppty owner or secondary owner – this task is completed in a quick efficient way – always offering to help further.

It is really good to have a team like this supporting us in our daily challenges. I always use the feedback button, but I wanted to make sure you knew!

Client statement

The biggest challenge we have had to face while providing Managed Service was the lack of documentation regarding most of the modules of the system we migrated. When taking over the maintenance of Salesforce Sales Cloud, we did not have a benchmark, making it more difficult to handle requests smoothly.

With time, this problem was getting smaller. We get to know the code, and we decompose functionalities into the prime factors. We use expert knowledge of testers, developers, and analysts. Thanks to that, we keep the defined SLA.

Jakub Sołowiej

Service Manager, Craftware