Take advantage in your business development of the world's leading support in the market
If you have enough of switching through different marketing, sales, or service support systems, the Salesforce platform is for you. It combines the most important business processes in one intuitive tool.  Therefore, you gain greater control over the whole, increase your team's work efficiency, and your customer engagement.
It is a technology that has revolutionized the approach to implementation and has reduced the time to get a return on investment. Salesforce respects the needs of most industries, businesses, and departments, thanks to its modular construction and communication capabilities under the platform. Ready-made specialized solutions available in AppExchange supplement standard functionalities, and if you need more adjustment, the platform allows you to customize and create tailor-made solutions.
Regardless of whether you need quick implementation of standard functionalities or more complex modifications, Salesforce is the answer to your needs.
Salesforce Platform benefits
Achieve ROI in a short time

Thanks to the modular construction and ready-made solutions, Salesforce provides business benefits from the very beginning. Implemented MVP is gradually developed, increasing beneficial influence on the results

Availability in the SaaS model

It does not generate costs of expensive infrastructure maintenance. You do not have to worry about security or technical support. You get everything within Salesforce subscription

Scalability of every solution

The system changes with every customer business. You start with MVP, the smallest part of the project which provides ROI, and then you expand it reacting to additional business needs

Quick transition from a project to an implementation

You do not want to wait months or years for the first effect of the system implementation. With Salesforce solution may begin to earn for itself within several days
Why Salesforce Platform?
0
increase in sales effectiveness
0
increase in customer satisfaction
0
increase in employee engagement
0
faster implementation of the solution
*The mean percent increase reported by Salesforce customers, source: SF Customer Relationship Survey from years 2014-2016, study among over 10.500 of customers
** The ROI of Building Apps on Salesforce, IDC, July 2016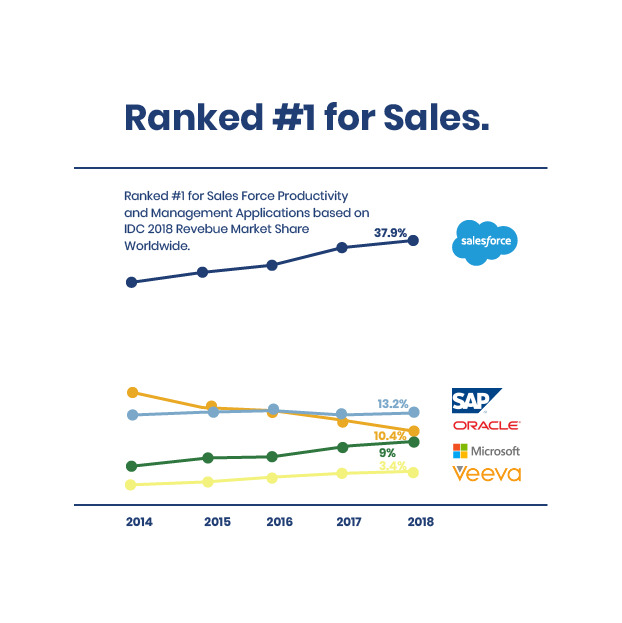 Ranked #1 in IDC rank
For several years the Salesforce platform is consistently leading in the world's ranking. A continuous increase in market share is owed to constant development. Further improvements (upgrade) shared with the customers three times a year, new specialist solutions added to AppExchange and great opportunities of adjusting existing modules to individual customer needs – all this makes Salesforce versatile and complete system
The leading solution according to Gartner Magic Quadrant
A place among Gartner's Magic Quadrant leaders is the goal that every organization aspires to if it wants to matter in the market. Salesforce is a leading player in this category.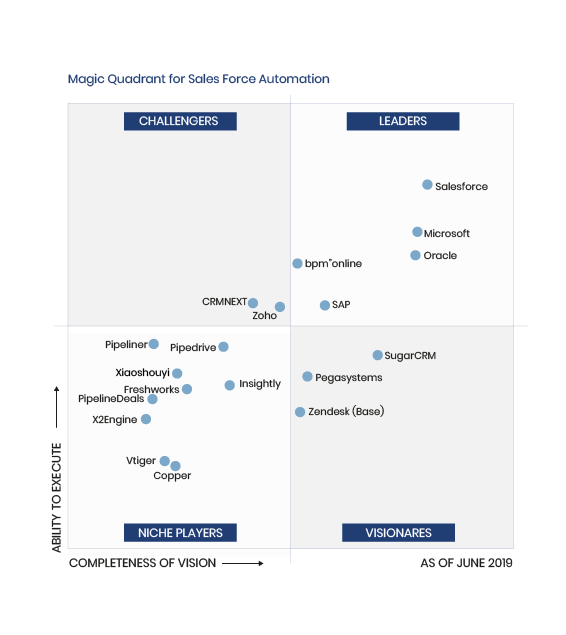 Learn more about Salesforce products