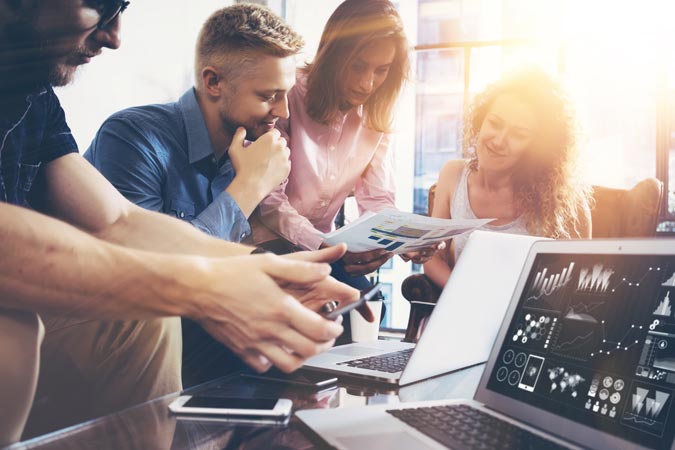 Take care of the Salesforce development and maintenance
Introducing new solutions is not the last step of the digital transformation of your company. Any implementation of a new system, including Salesforce, is like buying a new apartment – we can move in after receiving keys and furnishing, but to ensure ourselves full comfort for a long time, we have to take care of its maintenance and smooth troubleshooting. With time, there will be new ideas for smaller or bigger changes or renovations that will make our apartment more functional and our lives – better.
At Craftware, we help organizations maintain the Salesforce Platform in the Managed Service model; we implement new projects based on Agile methodologies. What's more, we ensure that companies introduce standards and processes in line with Continuous Integration and Continuous Delivery – the good practices recommended by Salesforce. We are characterized by many years of experience and hundreds of implemented projects, as well as a focus on providing solutions of the highest level. And this translates into the business success of our customers.
Our Services
Carrying out projects in Agile methodology allows for flexible reaching assumed goals and quick implementation of the solutions that bring real value. Collect business requirements up-to-date and in case of any changes, quickly implement necessary modifications.

See more

Our Managed Service team takes care of your Salesforce instance maintenance and development. We ensure you with constant technical support and suggest improvements to you. We make sure you always use the best available solutions in the Salesforce technology.

See more

Continuous Integration and Continuous Delivery are a set of processes and good practices recommended by Salesforce; they allow your organization to improve the development and manage the following releases as well as code unification.

See more
Start projects quickly

Don't carry out long-term implementations; take small steps that bring immediate results.

Respond to organization's needs

Deliver relevant solutions that are consistent with the changing business requirements.

Deliver faster and save money

Ensure more functionalities within the same budget thanks to the right approach and methodology.

Gain access to expert knowledge

Develop knowledge and skills of your employees by cooperating with Salesforce technology experts.
Experienced Salesforce Partner

We have been a Salesforce partner since 2014, and during this time, we have completed hundreds of projects using this technology.

Full range of skills

We have a full range of design skills that allow us to independently carry out large projects

Experts with confirmed knowledge

We currently employ over 100 Salesforce specialists with over 290 certificates.

A valued partner of the corporations

We have been cooperating with international corporations and their IT competence centers for 12 years.