Therefore, knowledge of customer needs and behaviour is one of the most valuable assets of a company. Thanks to Customer Relationship Management Systems, you can collect insights and use them in a way that not only attracts but also retains the customer for longer, creating a stable relationship based on collaboration.
How to skillfully use this knowledge and ensure the company will benefit from it? You will learn more further in this article.
Minimize the costs of acquiring new customers
Offer high-quality services
Satisfied customers are the most valuable advertisement for your business. It is worth investing in this channel of acquiring new leads. The power of recommendation is enormous. According to Nielsen, 92% of customers believe in their friends and family's recommendations more than in other forms of advertising.
A better understanding of customers' needs, meeting their expectations and respecting them will make your services very highly valued.
It's much easier to achieve your goals when you get to know your audience. It's crucial to adopt an individual approach. A few years ago, Genesys asked over 9,000 people what spurred them to contact entrepreneurs and 40% of them replied: "Better customer service".
Define the target groups you want to acquire
The CRM system will teach you how to distinguish valuable customers from those who will never bring you any profits.
Select groups and draw conclusions. Observe relations with current customers, their needs, analyse them and on this basis react to the needs of new, potential customers.
Remember that lack of sales growth may be caused by a poorly designed offer or directing products not to those customers who need them. The application of CRM systems that monitor contacts with customers provides an efficient analysis of processes and a possible change of your roadmap.
Thanks to the collected data, you can also determine the desired customer groups.
How? The behavioural data available in the system will allow you to better prepare for future calls. Through this, you will learn about your customers' needs before contacting them. It will allow you to perfectly customise the offer and increase the chance of establishing cooperation.
As calculated by American Express, every satisfied customer will tell 9 other people about your company. In this way, you can gain not only one new customer but several.
Support marketing campaigns
The appropriate adjustment of the means and implemented tools will reduce the costs of reaching the customer. The average increase of ROI from marketing reported by Salesforce customers in the years 2014-2016 was 25%.
Looking after customer relations begins even before the first contact. We cannot allow our audience to waste time browsing through content that does not concern them.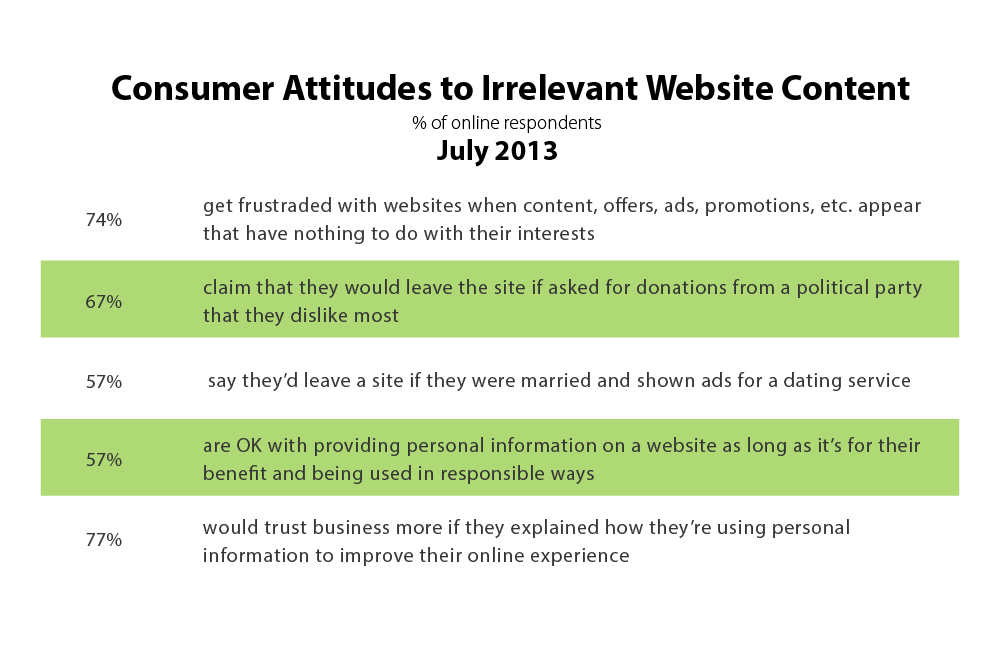 According to Janrain's research published in Online Experience Study, as many as 74% of online customers are frustrated to see content, offers or advertisements on websites that do not interest them. The key to success will, therefore, be a thorough analysis of the behaviour of the target audience and tailor the messages to their needs.
Improve service level before sales
Get to know customers' requirements and preferences
Responding to customers' needs is one of the best strategies to achieve success in sales. By analysing the collected data, you will find out who your customers are and why and how they buy. Anticipating customer behaviour and creating pathways for these activities gives you a competitive advantage.
Getting to know the behaviour and preferences of your customers before the first conversation increases customer satisfaction. Research conducted by the Harvard Business Review shows that customers whose first contact with the company was positive spend 140% more money there than those who were disappointed with the relationship with the seller.
Boost sales
Good management of customer relations and knowledge of customers' needs have a direct impact on sales. The data of the aforementioned American Express show that as many as 86% of customers agree to pay more if customer service is good.
If you implement the CRM system and train your employees accordingly, you will certainly see an increase in profits. This is proven by the users of Salesforce. They confirm that the use of tools well matched to the level of their business increased sales by an average of 25%.
Define what your customers may find attractive
It is said that whoever has the power of prediction will win sooner than the one who reacts quickly. Sometimes it may be too late to make changes. That is why it is so important to know the customer and his requirements. For small businesses, this can even be crucial, because as much as 85% of their recommendations come from word of mouth marketing.
In one of its surveys, the Gallup Institute asked a bank's customers how they rated the customer service there. Those who felt that they had been served quickly were 6 times more involved in the purchasing process. However, customers who paid more attention to "human" behaviour (e.g. willingness to help) showed as much as 9 times greater commitment.
Thanks to the use of the CRM system, customer data is widely available for the company's employees. They can analyse the results, for example, in terms of the causes of failed transactions and use the insights in contacts with new customers.
Continuously strive to ensure customer satisfaction
Ensure customer satisfaction
A customer contacts one company on average 65 times a year. We don't need to convince you that it is worth looking after his satisfaction. High quality of customer service increases customer satisfaction and boosts the likelihood he'll buy again.
When it comes to sales, the probability of success with the current, satisfied customer is 14 times greater than selling a product or service to a new customer.
Many people believe that the only way to increase profits is to gain new customers. Often, however, the best source of sales growths is taking care of the needs of the current business partners – offering them new solutions tailored to their expectations. These, in turn, can be determined by analysing the history of contacts with the given company and others with a similar profile.
Maintain customers by offering them new benefits or solutions
A customer uses your services because he trusts you. Not only in terms of the quality of the services provided. He believes that you will meet his expectations and anticipate them. Evolve together with the customer. Offer him new solutions. Surprise him.
Proactivity in this area pays off. The Global CX Wakeup Call research conducted by SDL has shown that only 1 in 5 customers return to us after a failed sale. However, if they come back, 59% of them are not loyal. Take care of customer relations and offer new solutions before the competition.
In order for a satisfied customer to continue using your services, you must always be one step ahead of him. If you have managed to build a relationship, you already know what he needs. Take a step forward in the next talks and offer him more than just what he's looking for.
Summary
Effective management of customer relations is one of the key elements of the sales process. Matching the content to the appropriate audience groups will save effort and resources with possible service support. Thanks to the collected data, you will be able to track the behaviour of the recipients and create an offer that will be suitable for them. This will strengthen their satisfaction and loyalty as has been proven by Gallup's research.
Customers with strong emotional ties to sellers visited shops 32% more often and left 46% more money than in places they felt indifferent about. Remember, therefore, to pay attention to customer relations at every stage of cooperation, and this will translate into profits for your company.
Aleksandra Pasek
Product Marketing Manager

She has been involved in the IT industry and Salesforce for three years. At the moment, she works on business development, generating leads, organizing business events and widely understood product marketing. She supports Craftware's sales team reaching new customers and building long-term relationships with them. A certified Pardot specialist, a tool for automation of B2B Salesforce marketing.