Using the so-called clouds, or cloud computing has become an everyday reality. In the era of full automation, we don't even notice the fact that we work online all the time.
We only expect that the tools we use work efficiently and fulfill certain conditions. They should be fast, widely available, safe, and tailored to the company's needs, including financial ones.
What is it like in practice? When working in the cloud, we use something on the Internet that is physically available on the servers of the service provider. We are talking about data storage or even entire application systems.
Are companies open to this type of software? The IDC study showed that already in 2016, confidence in the CRM system in the cloud increased significantly. Almost 61% more companies started to use it in relation to previous years.
The upward trend is maintained. There are more and more companies offering similar services on the market, and the technological solutions aimed at improving business efficiency are constantly being developed.
Is the data in the clouds secure?
Full data security
What are the benefits of storing data in the cloud? We can analyze, edit and forward them at any time, anywhere and with many people at the same time.
Due to the fact that we do not have physical access to these files, we are sometimes concerned if this is 100% safe. It is usually the biggest barrier that prevents us from maximizing the automation of the company's operations.
If you also have similar concerns, you are not alone. According to Forrester Research, concern for security is the most common reason for avoiding cloud computing.
But are these fears justified? Definitely not.
By storing data in the clouds, we provide them with more security than when they are stored on physical media!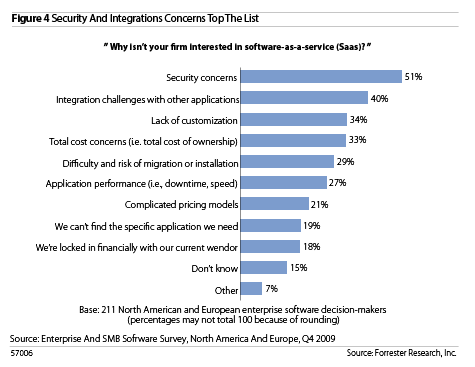 In the event of a sudden hardware failure, we are deprived of all information, files, and materials. When using data clouds, the situation is entirely different. Even if the equipment gets damaged, your data will be safe.
And what about hacker attacks? Stay calm. Cloud providers have both knowledge and investment resources to maintain and develop security and employ cybersecurity specialists. This translates into an ever-growing trust in this solution.
A report published in February 2018 by McKinsey ("Making a secure transition to the public cloud") shows that more than half of respondents believe that their data is safe.  This faith is the most justified.
Is there anything to fear?
As you can see, there is nothing to worry about. However, if you still have concerns, think about the advantages that this solution gives you.
You can use many tools and applications without the need for installation. All you need is access to the Internet. The cloud also unburdens your equipment from the number of stored files, which results in less susceptibility to failures and damage. You also don't have to worry that your data will fall into the wrong hands. You can easily secure them, thus preventing access by unauthorized persons.
Most importantly, you are able to prepare for any possible random events. All you have to do is back up your data.
What are the advantages of CRM in the cloud?
Easy access and convenience
With CRM in the cloud, you have easy access to customer data, contact history, shopping preferences and other information, regardless of where you are.
You can easily pass them on to other teams, analyze and draw conclusions from ready reports. You don't have to prepare anything, the system will do it for you. This, of course, will translate into greater efficiency of operations.
Innoppl Technologies showed that 65% of companies that use mobile CRMs achieve or exceed sales results. In the case of companies that do not use these solutions, only 22% manage to achieve success.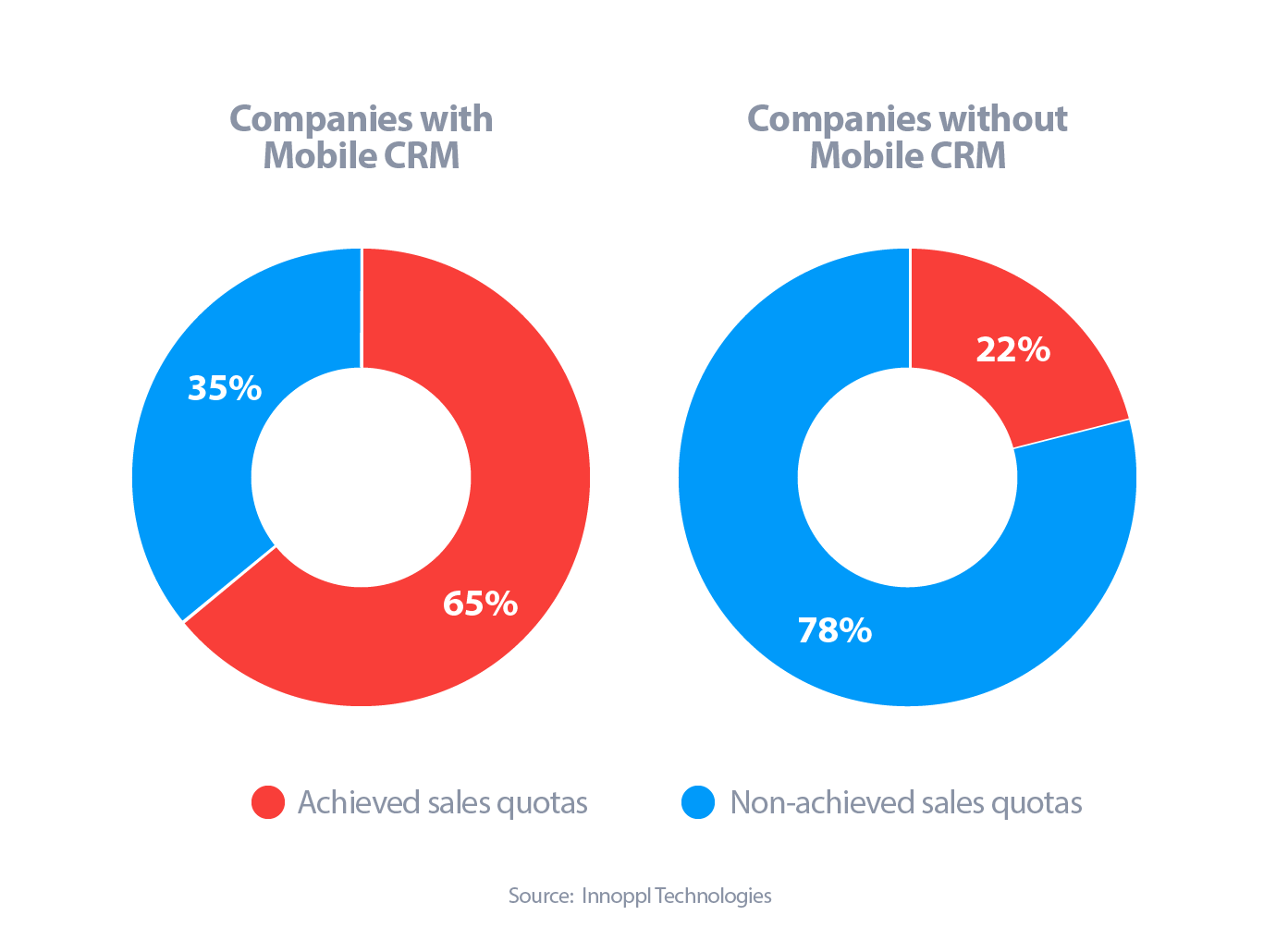 Lower costs of purchasing and using the system
Due to the fact that the cloud technology is based on IT resources that you "rent" from the supplier, it is relatively cheaper than traditional stationary methods. You don't have to worry about your software getting old and needing to replace the system with a new one. Your provider constantly invests in development and offers functionalities based on the latest technologies. That's what Salesforce does. It first added mobile access to its platform, then IoT (Internet of Things) and Artificial Intelligence.
You only have to work on getting the right quality of the Internet and adjusting internal IT procedures to specific solutions.
The cost of the service depends largely on your needs. Analyze them carefully, contact the selected supplier and discuss your needs. Then make a decision. If you run a small business, you just need a basic package offered by various tools. In the case of large organizations and corporations, a more advanced system will be a better solution.
Real impact on the natural environment
Mobile CRM systems are also part of the global trend of caring for our planet. By providing virtual services and tools, the amount of office supplies and packaging is reduced. No more paper folders and excessive use of the printer. The costs of purchasing and storing physical data carriers also decrease.
All contacts in one place
Imagine that you must urgently write a reply to an e-mail using key financial data. Unfortunately, you don't have the phone number of the person who has them. You've had such situations, right?
CRM in the cloud gives you access to company resources wherever you are. You can reach them using a laptop, mobile phone or tablet. As we wrote, the only thing you need is the Internet. You and your colleagues can use the centralized customer database and contact history at any time.
As the study of Software Advice shows, 48% of CRM system users use them on smartphones, and 45% on tablets. In addition, 49% of the respondents use at least 3 devices at work.
Effective resource management
Flexible, customized access to data is one of the main needs for effective resource management. Thanks to the application of CRM in the cloud, we are able to quickly gather the necessary information and use it. In addition, well-designed CRM systems have an extensive offer of internal applications and tools, which are helpful, for example, when analyzing the number of leads obtained.
Recommended CRM in the cloud
If your company deals with customer service in any way, we have a tool for you that perfectly suits your needs. The Salesforce platform is an innovative solution that automates business processes.
Salesforce is recommended for small, medium and large enterprises. Thanks to over 3500 applications, you can customize the platform to your needs. It will grow with your company. Thanks to the implementation of this solution, companies have increased sales by an average of 25% and ROI by as much as 70%.
Working with Salesforce, your data is secure. By using cloud solutions, encrypted data is stored with multiple backup copies. The platform's servers are located in America, Asia and within the European Union. Access to your resources is also protected, among others, by double security when signing in and restricting signing into a specific IP, e.g. from the office.
What exactly will you gain? One tool to control the entire sales process. This applies even to long, complex and complicated ones. Salesforce facilitates service thanks to many automations, e.g. recommending subsequent actions to sellers. You can generate offers based on templates. Do you want to know more? Contact us!
Summary
Bearing in mind the number of applications of the cloud model in IT and business, it is difficult to imagine that the nearest future would be different. In August 2017, Forbes wrote that in 15 months 80% of all IT-related budgets will concern the cloud.
Even if there are concerns about the security of the system, an advanced branch on data protection in cloud solutions is developing in parallel. This also applies to CRM systems. There is no indication that our data will be at risk.
Thanks to CRM and the cloud, modern businesses are increasing their revenues. According to Insight Technology Group, it is even 42% more. It is worth being on the same side.
Aleksandra Pasek
Product Marketing Manager

She has been involved in the IT industry and Salesforce for three years. At the moment, she works on business development, generating leads, organizing business events and widely understood product marketing. She supports Craftware's sales team reaching new customers and building long-term relationships with them. A certified Pardot specialist, a tool for automation of B2B Salesforce marketing.