The most common business challenges
A customer is the basis of any business. In the digital transformation era, providing a high-quality product is not enough. What matters is full interaction associated with this cooperation. The cooperation should be focused on the customer.
We understand this that is why we pay particular attention to learning the business goals of our customer. We ask them: why do you want to implement a new IT system. We learn their needs and based on 10 years of our experience we advice them how to do this and with what tools. We build the IT system based on different components available on the Salesforce Platform putting the customer in the center of the system.
Working with business representatives, we face many challenges. The following are most common: no metrics for activity efficiency, no standard processes, solutions incompatible with business needs, user-unfriendly tools, no tools for managing communication with customers, ineffective user service processes, or difficult access to knowledge about customers and products.
The full image of your customer
The challenges of our customers let us understand how important it is to determine the information necessary for each organization unit.
The sales department needs different resources from the customer service department. In most cases, to answer diverse business needs it is necessary to consolidate data from many systems and present them in a single tool.
360 degrees view — this is how we describe the full image of your customer — is the key for any business. Aggregate information in one place enables to make quick decisions based on real data.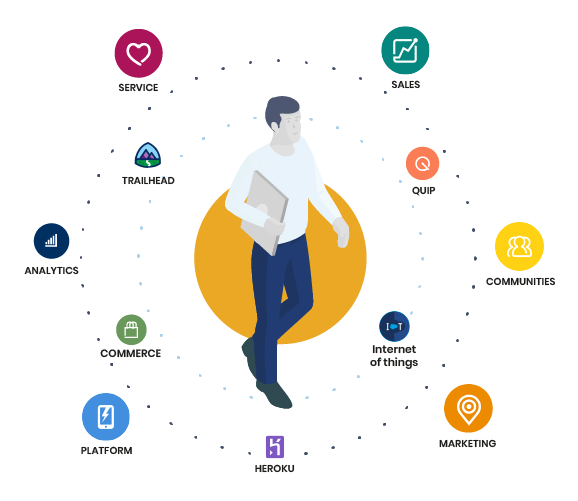 Tools adapted to business goals
Thanks to the modular Salesforce Platform, we can effectively manage these challenges. It lets us implement modules satisfying the most urgent needs first, and then develop them or add new.
This form due to its flexibility enables to scale solutions to organization needs without additional costs. From the very beginning, this enables to use many ready-made Platform components, such as the mobile application or reporting module.
Fast or tailored implementations
We carry out fast implementations (one to three months) based on standard Salesforce products, and complex, extended to many months projects which require high degree of adaptation to the current customer challenges. What distinguishes us is the fact that we are always agile. We determine the Minimum Viable Product, i.e. the minimum scope of services that will quickly bring benefits, and at the next stages, we add new functionalities and extend them.  Learn more about tailored solutions.
The challenges of our customers
You decided to launch a campaign promoting your products via two channels — e-mail and SMS. After 6 months and 200 thousand dollars spent, you start wondering what results you have achieved. The sales increased by 3% so you think that a campaign in this form is worth repeating. But is[1] the sales increase really related to the campaign? Perhaps, a salesperson obtained a new, profitable customer? Do you know how to measure the campaign efficiency?

One of your salespeople leaves in the middle of quarter. You provide Excel data to other team members. It turns out that other employees have no knowledge about the contacts with customers so far, arrangements that have been made and needs that have been noted. What you have is just "bare" contact data (which is not always complete), and short headwords that tell nothing to you and other team members.

The churn is starting to grow. For some reason you are loosing customers, though they are satisfied with the product you have delivered to them.
Do you have a tool that lets you quickly note a disturbing trend and find its reason? Are you able to verify the history of your customer service?
What is influencing your business?
Customer loyalty

The main factor influencing customer loyalty is service. It can be clearly observed in the results of a classical study of the reasons for customer outflow to the competitors: in 69% of cases, it is due to unsatisfactory customer service. For comparison, it should be pointed out that low quality of offered products or services deters only 13% of customers.

Reference: EFQM Customer Satisfaction Survey. 

Customer experience

80% of managers recognize customer service as the key factor influencing customer experience. This opinion is backed up by the investments in customer service scheduled for the nest 2 years. 83% of the major market players, 72% of medium-sized companies and 50% of companies below market average with respect to financial results intend to increase their budgets for this purpose. Therefore, a strong difference between the strongest and the weakest enterprises is visible. The least prosperous companies declare increasing budgets for investments in customer service almost twice less often.

Reference: EFQM Customer Satisfaction Survey.

Customer service via various channels

65% of companies want to provide their customers uniform experience from all contact channels and in the full sales process space. 65% of companies want to ensure that the customer-consultant interaction is more personalized. 61% of companies want to have better access to the full history of customer contacts with the company.

Reference: EFQM Customer Satisfaction Survey

Customer relationship

Increase in productivity by up to 50%, decrease in customer service costs by 40%, increase in the number of RFQs by 65%, and increase in customer service quality and easiness of establishing relations with customers by 74%.

Reference: A survey performed by IBM
Testimonials
Craftware helped us  organize our business processes related to acquiring customers and customer service. It implemented a tool that reached a  high adoption level, covered both areas, increased the effectiveness of our work, and allowed ongoing reporting. We obtained those results thanks to the expert knowledge that Craftware brought into our project.

The team, which carried out the project, listened to our needs all this time, was supportive, friendly, and flexible.

Jarosław Ruciński

E-commerce Director at BBK | home&you

They are great professionals who perfectly know the Salesforce technology and the product capabilities. The Craftware team is open, flexible and oriented on achieving business goals — we highly value these traits.

Anna Kujawa

CRM Department Manager, Allegro

We could admire the effects of their work, approach, competence and reliability in all these areas. Their strengths as consultants are paying a lot of attention to details, high quality of delivered solutions and a fantastic ability to co-operate with company representatives.

Wojciech Głowacki

Technical Project Manager, Roche

What I appreciate most about Craftware is their partnership-based approach and facing the challenges together which let us operate effectively. Although the basis of our agreement was the provision of qualified specialists, I would call the service provided by Craftware a partnership not body leasing.

Kamil Werłaty

Salesforce Technical Lead, IPF Digital

We appreciate the excellent substantive preparation of the Craftware team: excellent knowledge of technical issues in the field of Salesforce and understanding of business processes, as well as a partnership approach. If you plan to implement an IT system and need a consultant – a partner, not a "vendor", Craftware is the best choice.

Andrzej Bassara

Head of Service Delivery and Customer Care, PayU

Craftware supported our company from the very beginning at the stage of selecting the right licensing model. Thanks to that the selected software is tailored to our needs and meets our requirements. Kind hearted professionals clearly and willingly give valuable advice on using the program. The commitment of Craftware employees and impeccable contact with customers have a positive impact on the brand's position on the market.

Aleksandra Wilk

Key Account Director, PGF Urtica Sp. z o.o

When we decided to implement Salesforce at our company, we did not have precise expectations. We needed a partner who would tell us about the possibilities and help us to fully benefit from them. Thanks to its experience, Craftware led us through the process quickly and painlessly. Consequently, we could fully focus on our business and increase sales.

Przemysław Auguścik

Board Member, Flotman