IT Service Management – practice (at Craftware) makes perfect
Where did the idea for this series of articles come from? From everyday conversations. When I tell people what I do, I usually face disorientation and confusion, even from the side of people working in the IT industry. "Are you a service manager? Er" Maybe it sounds like rocket science, but believe me, there's nothing complicated about it, and I'll try to prove this to you.
What is IT Service Management? Who is a Service Manager, and what do they do?
What does "service" mean in this case?
You were already introduced to the subject of the Service Manager role by Agnieszka Ziarkiewicz, who wrote the article Who is an IT Service Manager? I strongly encourage you to read it. But I'd like to take a look at managing IT services from a broader perspective, and especially from Craftware's point of view. This means presenting you not only what a Service Manager from Craftware has to offer you in terms of IT Service Management, but also Craftware as a whole. At Craftware, we focus on knowledge and growth, and the evidence is industry-specific certificates. Thanks to our Service Managers who constantly improve their competencies, our customers can rest assured about the quality of the support we guarantee them. It's a win-win situation – it's worth working with us, but as well as for us ?
What is Service and Service Management?
We encounter services of various kinds and various industries every day. Service may mean a home renovation: we outsource it to a contractor considering the scope, budget, and timeframe defined in the agreement. As a person who engages a service provider, I do not need (not in theory) my own tools and experience. It's my provider's job. If I did the renovation by myself, it would probably be cheaper, but would I get the job done at the same level of professionalism as a specialist with many years of background, accurate tools, and know-how, though?
To put it very simply: an IT service means just the same as a service in the colloquial sense. However, it is related to the IT world, where IT systems are used for fast information handling.
And how does ITIL define a service? ITIL says that service is a means of enabling value co-creation by facilitating outcomes that customers want to achieve, without the customer having to manage specific costs and risks.
This definition, although at first glance not so clear, determines what is the ultimate goal of an IT service: cooperation with customers thanks to which they achieve expected results without incurring costs and risks.
Broadly understood Service Management, meaning managing services, is nothing else than service designing, creating, supervising, and continuous improvement. What is different in each organization or product is the scope of supervision depending on the organization's needs (and this is something Agnieszka writes in the before-mentioned article).
On principle, let's see how ITIL defines Service Management:
Service Management: A set of specialized organizational capabilities for providing value to customers in the form of services.
IT Service Management: The implementation and management of quality IT services that meet the needs of the business. IT service management (ITSM) is performed by IT service providers through an appropriate mix of people, process and information technology.
ITSM frameworks and methodologies
IT Service Management, just like every other essential field of management, has its frameworks and sets of best practices developed by experts who tested them firsthand during years of working on projects. As I already mentioned, an ITIL framework will be our reference point in this article and the following ones.
What is ITIL?
ITIL (Information Technology Infrastructure Library) is a set of best practices that help to adapt IT services to business needs.
Services are both resources, as well as their availability – all that delivers value and benefits to customers.
ITIL is the most distinctive and most often used IT Service Management framework. It's constantly updated (created in the '80s of the 20th century, already has the fourth version), and still, it's highly esteemed in the profession of Service Management.
The newest version, ITIL 4, combines service management expertise with knowledge of how to adapt to the changing business environment, including cloud solutions, Agile methodology, and DevOps[1].
Other frameworks and methodologies:
COBIT (Control Objectives for Information and Related Technology) – designed to help organizations grow and implement information management strategies. It offers assets to build, monitor, and improve implementation, as well as solutions to manage risks.
MOF (Microsoft Operations Frameworks) – a series of documents describing processes of creation, implementation, and IT service management. MOF contains guidance on a lifecycle of a specific IT service. The overall goal of MOF is to popularize standards of an environment so that it supports effective cooperation between IT and business and contributes to achieving operational maturity.
eTOM (enhanced Telecom Operations Map) – developed for processes from the telecom industry. It covers the best practices, models, and sets of standards representing three process phases of an organization's hierarchy.
TOGAF (The Open Group Architecture Framework) – used to define business goals and simultaneously adapt them to architecture objectives related to software development.
XaaS – our future?
The world decided to head towards transformation "as a service." You may have noticed that, especially in recent years, more and more products are sold as services:
renting cars within a subscription instead of buying or leasing one,
streaming services instead of buying music or movies,
cloud infrastructure instead of physically buying and setting machines, and so on.
Fun fact! It already has a name – XaaS (anything as a service or everything as a service).
It is not the subject of this article, but I'm bringing this up because this trend affects us all. We all use some kind of service, and it doesn't matter whether we do that privately or professionally, whether it's streaming services or microservices.
But the fact is, we will be using all sorts of services even more and more often.
I'm mentioning this also because, together with the growing number of IT services, demand for specialists who know how to handle services and maintenance grows as well. An IT service lives its own life; it needs care and attention whenever conditions change (for example, business needs) – and it is a specialist who should manage it.
Such a person can be named with these two words: Service Manager.
What does an IT Service Manager do?
Here, I again refer you to Agnieszka's article as it delves into the subject deeply.
Such a role is a broad term and can mean many different things, depending on the context, organization, area, and specific requirements. What's in common, however, is that the Service Manager takes care of the IT service in one way or another, to a greater or lesser extent.
A "perfect" Service Manager should know the entire service lifecycle, all the practices, and processes related to it, starting from strategy through design, transition, operation, to continuous improvement, and, finally, service decommission.
The full scope of responsibilities of a Service Manager is presented in the picture below. It shows the service lifecycle according to ITIL 3 (I'm using ITIL 3 in this example on purpose – we know this one best, in theory and practice).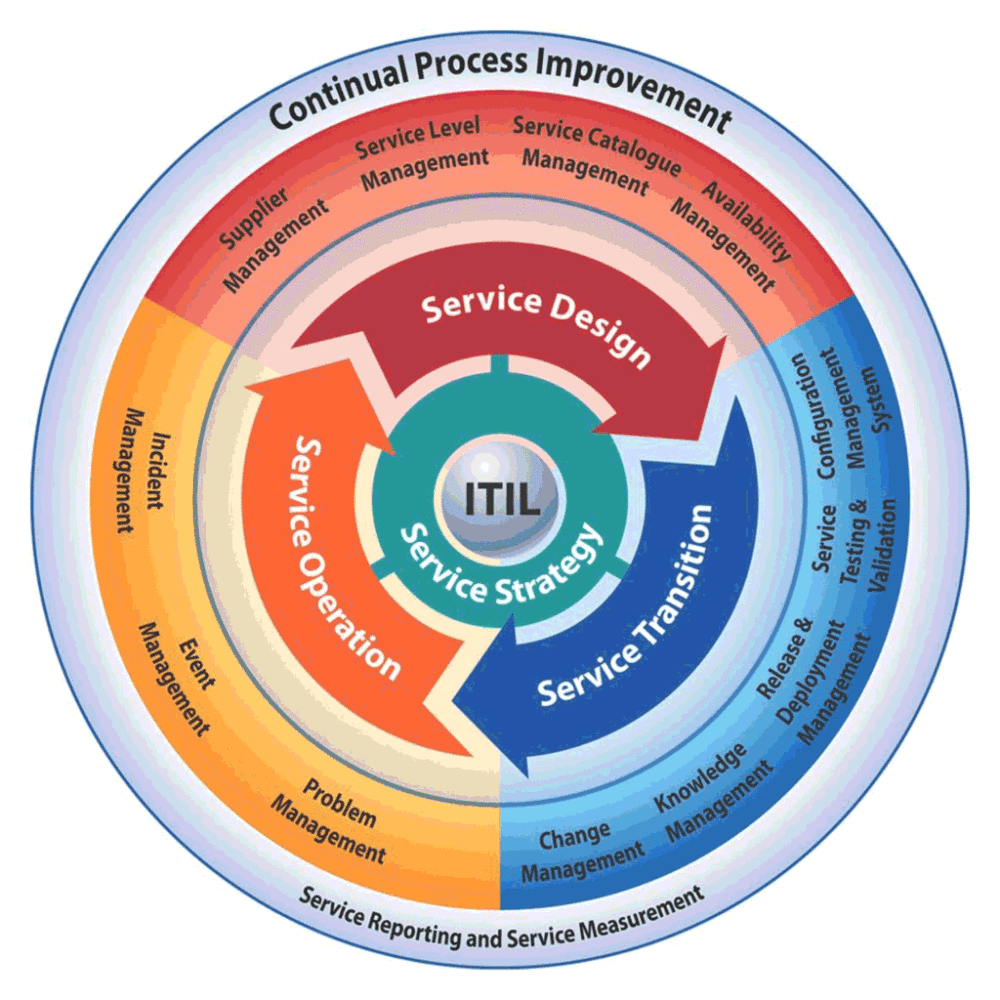 The scope of the Service Manager's responsibilities
Source: https://www.technosysuk.com/services/itsm-service-management-process-training-2/
Why should I implement IT Service Management in my organization?
A lot of people, who are more or less responsible for service maintenance, ask themselves this question. Do we need such a service? Do we need a Service Manager? In my opinion, yes, ITSM is worth implementing and developing. And it's not only my personal opinion – but our customers also see benefits, and their point of view is the most important to us. Customers emphasize the following advantages of ITSM:
improves the quality of IT services,
standardizes IT processes,
reduces costs (in many ways, for example, by decreasing the number of incidents, reducing expenditures on the service desk through appropriate knowledge management, and such).
One of the frequently mentioned benefits is standardizing processes. Lack of processes means that many people interact with each product, and it's not always clear who should be making decisions. In such situations, employees are disoriented. In these situations, employees are often confused and don't know the following:
what are their specific roles and responsibilities in the team,
how should they handle solving issues, decision making, solving incidents, and so on,
what is their responsibility when it comes to services support, and which service levels need to be maintained (how to resolve incidents quickly).
ITSM solves the issue by the following:
creates processes for each of the most significant functions in an IT organization,
determines which roles are required to carry out each of these processes,
clearly defines the responsibilities and contribution of each role in the process.
And what are your experiences with ITSM? Does it perform well in your organization? Or maybe you are only at the stage of considering whether it is worth befriending ITSM?
If you would like to raise another subject in the field of ITSM, write to us and let us know which one.
[1] DevOps – Development&Operations, an approach to carrying out projects; an organizational culture to design synergy between software development (Dev) and its operational maintenance (Ops).
Piotr Raczyński
Service Management Team Manager

He has been gaining experience in IT for 14 years, primarily in a Service Manager role. At Craftware for almost 5 years; until the recent – a leader of the SM team, currently, its manager. Now, he takes care of services for the Life Science sector. But, as he states, other industries and cultures (such as Korean culture) are not unknown to him. As a Service Manager, he focuses on operational issues, but he's also familiar with project management. The greatest value for him is, in every aspect, people.