If you have not heard yet what Salesforce releases are, let me explain: three times a year, Salesforce introduces updated versions of its applications, enriched with new functionalities and improvements. The changes are effective the same day (or within two days) for all users worldwide and do not affect the customized processes existing at the customers' organizations.
The release date for Winter '24 will depend on Salesforce instance, but the main release weekends are on:
Sep 2, 2023
Oct 07, 2023
Oct 14, 2023
FLOWS: Display Custom Error Messages in Record-Triggered Flows
FLOWS: Pause Element is Replaced By Wait Elements
Salesforce introduced three new Wait elements to replace the Pause element:
Wait for Conditions element replaces the Pause element
Wait for Amount of Time element lets you wait for a specified amount of time. Valid values are Minutes, Hours, Days, and Months. Moreover, you can resume at a specific time of day.
Wait Until Date element lets you wait until a specific date and time.
FLOWS: Save Flow Without Configuring (Some) Elements
Winter '24 enabled flow builders to save more elements without the need to fully finish building them. Instead of receiving errors that prevent you from saving your flow, you will now just be presented with a warning.
REPORTS/DASHBOARDS: Transfer Ownership of Lightning Dashboards (Beta)
Salesforce introduced the ability to transfer dashboard ownership when responsibilities change or the dashboard creator leaves an organization. The new owner has full control over the dashboard contents. Previously, you had to clone or recreate the dashboard when the creator moved on to other responsibilities.
REPORTS/DASHBOARDS: Report on Custom Permission Set and Permission Set Group Assignments
Salesforce allowed to build reports on custom permission set and permission set group assignments. Now you can see all users assigned to a specific custom permission set or permission set group. Or, use the report to review an individual user's assignments.
CORE: Mass Quick Actions on Related Lists (GA)
Finally, Winter '24 enabled adding quick actions directly to related lists. Now users can create related records for items in the list without leaving the page, as well as perform mass updates for up to 100 records.
SALES CLOUD: See Which Contacts and Leads Need Attention and Take Action Directly from Contact Home
Salesforce introduced Intelligence View for Contacts and Leads. Previously, Contact/Lead Home provided only simple list views and required users to navigate to individual records to take action. This new feature helps users to see what contacts need attention and which to take action on directly without needing to dig into list views.
SALES CLOUD: Einstein Conversation Insights (Call Summaries)
Call Summaries support voice and video calls, including providing next steps and customer feedback. Einstein Conversation Insights (ECI) users can access helpful out-of-the-box list views for calls. Users can see the calls and summaries related to a record with the Call Summaries Related List lightning component.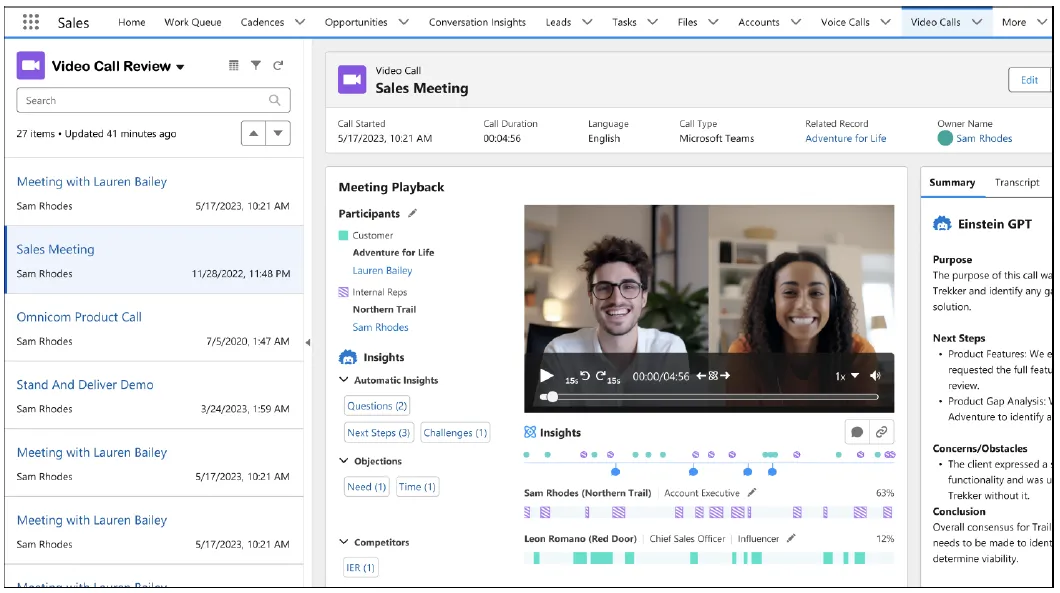 SERVICE CLOUD: Close Cases Faster using Einstein Work Summaries (GA)
SERVICE CLOUD: Einstein Service Replies (GA)
SERVICE CLOUD VOICE: Listen In to an Amazon Connect Voice Call through Salesforce
Now, supervisors can listen in to a call directly from Salesforce through Omni Supervisor. Previously, supervisors had to listen in from Amazon Connect.
SERVICE CLOUD VOICE: Enable Record Types on Voice Calls to Support Different Business Processes
Finally, we can offer separate business processes, picklist values, and page layouts to different agents answering calls. Record Types on Voice Call object!
FIND MORE HERE: